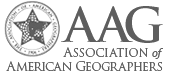 The Association of American Geographers (AAG) is a nonprofit scientific and educational society founded in 1904. Its members share interests in the theory, methods, and practice of geography, which they cultivate through the AAG's Annual Meeting, two scholarly journals (Annals of the Association of American Geographers and The Professional Geographer), and the monthly AAG Newsletter.
Geography Departments in the Americas
Looking for an undergraduate or graduate program in geography? Interested in exploring options in the Americas? Want to attend a minority serving institution? Feel free to peruse AAG's list of geography departments in the United States, Canada, and selected countries in Latin America.